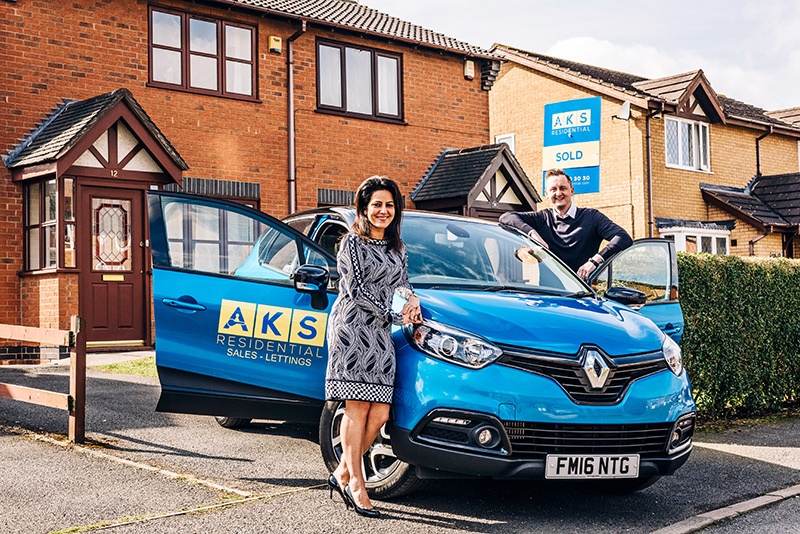 ONE of Derby's newest estate agents achieved 99.78% of the asking price, on average, for properties it sold in 2017.
Andrew Sanderson, 35, set up AKS Residential two years ago in a bid to "shake up" the local property market.
Since setting up, the Pride Park company has expanded to five members of staff.
Andrew, originally from Essex, said some properties had been sold above their asking price and others slightly less, resulting in an overall average that his team could feel "really proud" of.
He said: "This is a huge feat. On average across the country estate agents normally achieve 96-97% of asking price, meaning our sellers are thousands better off."
Family ties brought Andrew to Derby in 2014, as his wife Kathryn is from the area. He sold his business portfolio and, for a time, was living on what he described as a building site.
He worked for a big estate agent in Derby as a lettings director, but after getting to know the area, it was the impetus he needed to set up his own business.
Today, 85% of AKS Residential's business comes from recommendations.
Andrew said: "I'm really proud of the fact such a large proportion of our business comes from recommendation. From the start we have always focused on service and building relationships with clients rather than short term gain which is why so many customers recommend us."
Due to the company's growth, AKS Residential has launched a 24-7 manned telephone service which supports its team when they are busy with other callers and out of normal business hours.
Operated by Oberoi Business Hub, the call answering service ensures all enquires are dealt with in a swift manner.
Oberoi supports a number of businesses across numerous sectors, including estate agents.
Kavita Oberoi OBE, who launched the hub in 2012, said her team knows how to manage and handle calls.
She said: "Andrew knows too only well a business can never afford to miss a call.

"Speed of response is absolutely business critical – people don't like not being able to talk to someone on the phone or leaving answerphone messages.

"Furthermore, for urgent queries, we can transfer calls live to Andrew and his team. We run the service as if we are completely part of the business and have access to live diary movements so can leave callers with a clear expectation on when the call will be returned."
Kavita, one of Derby's most prominent entrepreneurs, said she was pleased AKS Residential chose to partner with Oberoi Business Hub, in St Christopher's Way, Pride Park.
She said: "Andrew wanted to use a locally based company rather than the large faceless organisations during his growth phase.

"When a company is unable to justify the cost of an additional resource but need it to support business growth, our service works out to be a cost effective alternative to the employment route.

"Our service is particularly invaluable to AKS outside of normal business hours, as that's when people have a little more time to focus on searching or thinking about selling their house.

"We are now looking at further opportunities to support Andrew's business from the extensive range of Oberoi Business Hub back office support services that we provide – one these being the use of our excellent  meeting rooms at the Hub for his client meetings."