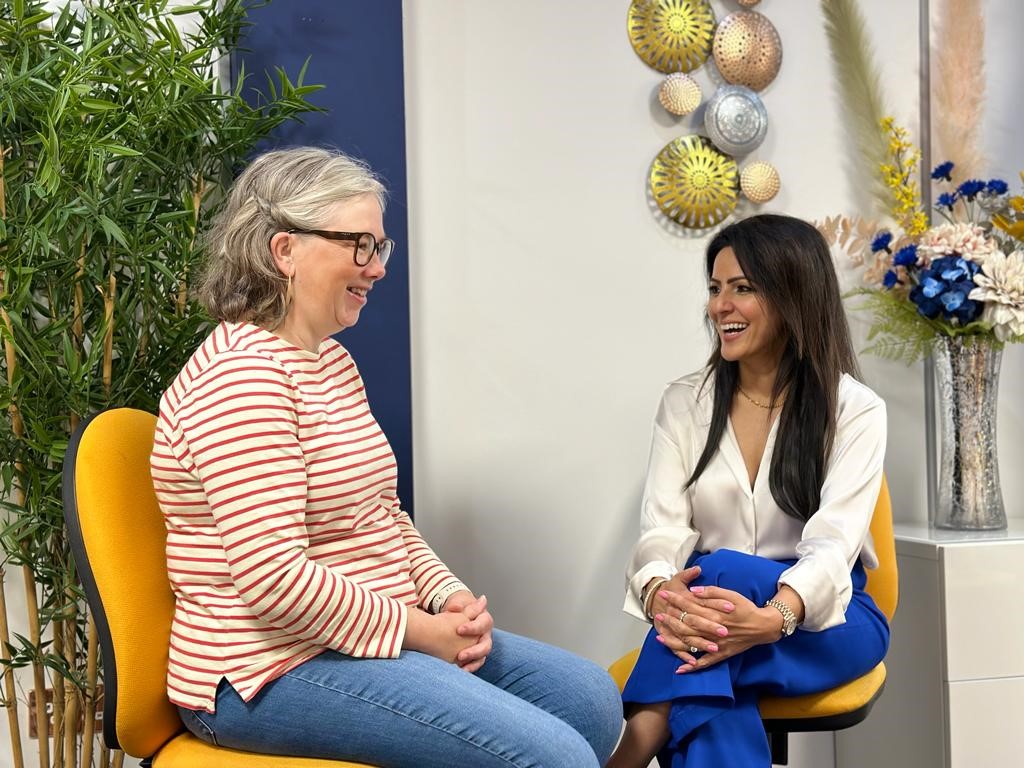 In this insightful interview, Justina, the Director of Stuart Mobility, shares her dynamic journey through entrepreneurship, detailing the inception of her business and the challenges she encountered along the way.
Her unique perspective, driven by personal experiences and a commitment to inclusivity, sheds light on the rewards and trials of running a business while maintaining a flexible and supportive environment for her family.
Kavita: Tell us about your background?
Justina: "I am the Director at Stuart Mobility, alongside my husband, Stuart. My professional journey has been quite diverse. I've held roles in various fields, ranging from British Rail to being a Student Union Manager.

I also have experience as an assessor and trainer, assisting adults in obtaining qualifications and guiding young individuals towards achieving their apprenticeships.

My primary focus has been within the charity and voluntary sector, an area that I'm deeply passionate about."
Kavita: Tell me more about Stuart Mobility and its core activities?
Justina: "Stuart Mobility was founded in May 2015; we are seating and chair specialists.

Our business operates through an ecommerce platform and involves nationwide travel to conduct seating assessments for a diverse clientele, ranging from the NHS, care homes, hospices, as well as the general public.

We offer a range of seating solutions, such as rise and recline chairs, bariatric seating and specialised options like porter chairs."
Kavita: What inspired you to start Stuart Mobility?
Justina: "Our son, Fred. He was diagnosed with Autism Spectrum Disorder (ASD) around the age of 5 or 6 and faced challenges with sleep patterns.

Balancing traditional employment, which lacked the flexibility needed for our son's unique needs, became increasingly difficult.

Given Stuart's background and ongoing work in the mobility equipment sector, we saw an opportunity to create a solution. We initiated our venture from our own home, gradually expanding over time, this gave us the flexibility required to support our son and cater to his needs, enabling us to take time off when necessary."
Kavita: Could you elaborate on the most significant obstacles you confronted during the establishment of your business?
Justina: "The primary challenges I encountered revolved around my limited expertise in certain fields like finance and accounts, marketing, and e-commerce, where I lacked a comprehensive background. Another significant hurdle was the absence of a robust support system.

Unlike the structured environment of established organisations, entrepreneurship often means being largely self-reliant.

When I was an employee we had a dedicated HR department, finance team, and IT support, setting up a business requires assuming responsibility for all these aspects independently."
Kavita: What guidance would you offer to individuals contemplating setting up their own business?
Justina: "I would encourage them to take the leap and give it a try, as you won't truly know unless you make the attempt. Additionally, I recommend reaching out to fellow small business owners to establish a supportive network. Building connections with reliable support companies can also prove to be immensely beneficial."
Kavita: What do you find the most rewarding and challenging about running your business?
Justina: "One of the challenges I face in running my own company is the difficulty in fully disconnecting. Even though I make a conscious effort to switch off my phone at 6pm and avoid work-related tasks on Sundays, the reality is that as a business owner, there's always a sense of responsibility and tasks to attend to. Unlike being an employee, you can't truly leave work behind, even during holidays.

However, on the positive side, there are numerous rewards. Being in charge of your own business means there's no higher authority dictating your actions. I have the freedom to make decisions without seeking approval. There's no need to request time off or adhere to limited annual leave. I can make personal appointments according to my convenience. Furthermore, the creative and strategic direction of the business is entirely within my control. This empowerment allows me to align the business's trajectory with my lifestyle and personal aspirations"
Kavita: You started your journey with Oberoi with call handling, what lead you to make that choice?
Justina: "Opting for Oberoi's call handling services was driven by several considerations. Firstly, I was reluctant to hire dedicated staff due to the unpredictable nature of call volumes.

There are days when the call traffic is minimal, while on others, it becomes incredibly hectic. Engaging Oberoi's service allows us to manage this fluctuation efficiently. Moreover, it grants us the flexibility to allocate our time to various tasks without being tied down by constantly having to answer the phone."
Kavita: Could you outline some of the advantages you've experienced through the using the team of Oberoi virtual receptionists to handle your calls?
Justina: "Engaging the Oberoi virtual receptionist team has proven highly advantageous. Firstly, it significantly enhances my daily schedule by freeing up my time to focus on other essential tasks. Instead of relying on an answering machine, having a person respond to incoming calls is crucial, particularly given the nature of our client base.

Having a reliable call handling service ensures that our customers receive prompt attention. Even though I need to return these calls at some point during the day, the initial interaction is with a person who answers the call and provides that essential first step in the customer journey.

While it's true that some customers may initially feel frustrated that the receptionist can only take messages and not provide immediate answers, I've found that this approach is more beneficial in the long run. It ensures that customers are met with a personalised interaction, which aligns well with the expectations of our client group. This ultimately contributes to a more positive and satisfactory experience for our customers. Thank you Oberoi!"