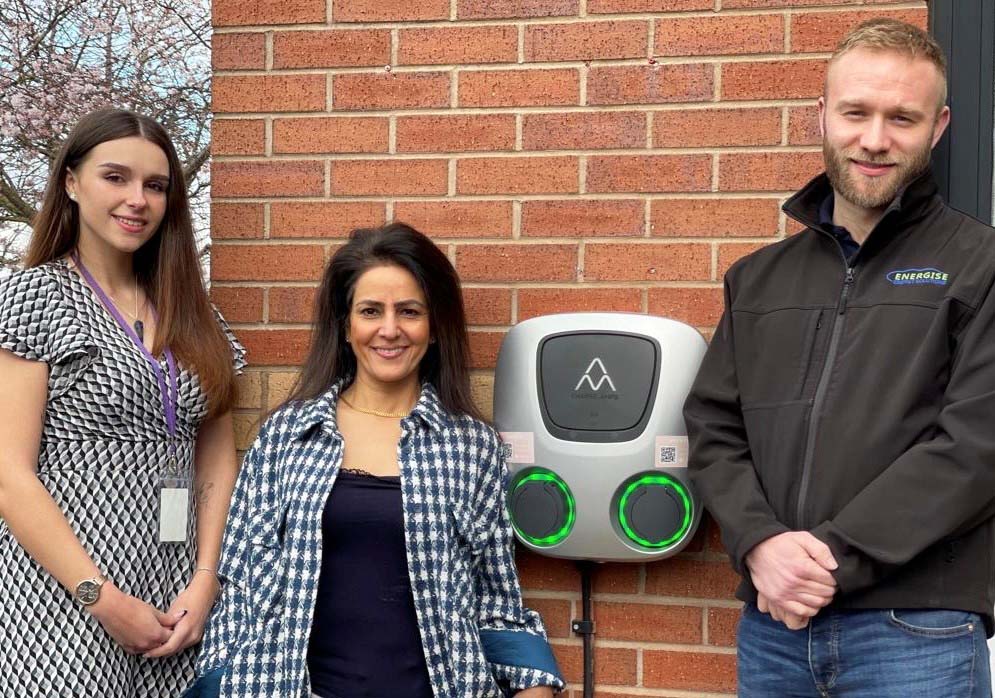 Oberoi Business Hub has become one of the first businesses in Pride Park to install electric vehicle chargers for use 24/7 by its own staff, tenants and EV drivers at neighbouring businesses.
Supported by a green technology grant from Derby City Council, Oberoi Business Hub has installed six EV chargers at its network of service office accommodation in and around St Christopher's Way.
The dual-socket 22kW charge Amps Aura EV chargers have been installed by Energise Energy Solutions, an EV charging and renewable energy solutions company based in Doncaster, South Yorkshire.
EV charging at Oberoi Business Hub costs 50p per kWh which, according to www.zap-map.com, is the cheapest in Pride Park and can be paid for either directly by credit/debit card or through Monta software which also enables users to book a charger ahead of use.
The chargers are available for use 24/7 – including on match days at Pride Park.
Oberoi Business Hub founder and managing director Kavita Oberoi OBE explained:
"I am proud that we are one of the first businesses in Pride Park to offer EV chargers to our own staff, tenants and neighbouring businesses.
This is an important step forward in our long-term strategy to become carbon zero.
"I hope that this will encourage more car owners on Pride Park to consider switching to EV vehicles – safe in the knowledge that they can re-charge.
Oberoi Business Hub manager Jodie Brady added:
"Our customers benefit from a wide range of services and facilities and we wanted to enhance the support for businesses and their employees who are looking for more energy efficient and less polluting modes of transport."
"Because we are at the heart of Derby's most prestigious business location, we also wanted to extend the invitation to our neighbouring businesses to use the EV chargers and the feedback has been excellent from the outset."
Dan Mansfield, Energise Energy Solutions project manager, concluded:
"We pride ourselves on quality customer journeys and fantastic feedback and the job we completed at Oberoi was no different.
We installed 3 dual socket 22kW charge points to meet their specification. Our engineers took great care during the project to ensure that we provided a professional install and left a smile on our customers face".