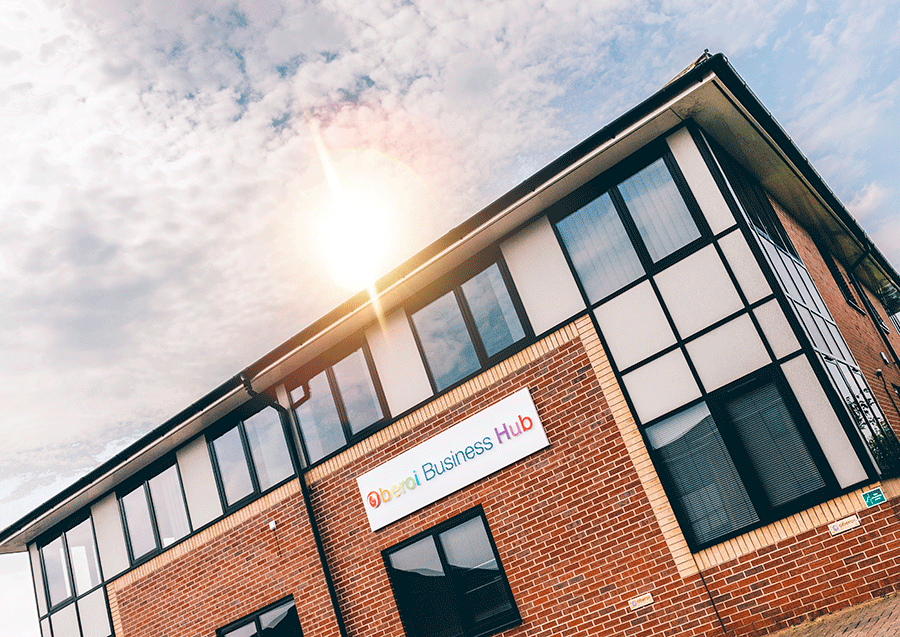 The agreement, similar to the arrangement with Leicester Castle Business School, which allows IoD members to sign in up to three guests for informal meetings, with refreshments on hand. Larger meeting and conference rooms are also available to hire.
Rob Beswick spoke to Kavita Oberoi OBE, founder of the Hub, to learn more about the company and how its services were tailor-made for IoD members.
Kavita Oberoi knows more than most about the professional environment in which businesses need to impress clients.
After all, on her route to becoming one of the most successful entrepreneurs in the UK, she has encountered almost every obstacle.
"I had spent many years in the Pharmaceutical sector and launched my first business providing clinical audit services to GP practices" she explained. "Like many start-ups, my first office was my home."
The inspiration behind the Oberoi Business Hub stemmed from the difficulties she encountered as she took those first steps as a business owner.
"As a start-up, there was very little support. I had no professional business address, no admin back-up or secretarial support, I answered my own phones or spent the evening catching up with messages on the answering machine. It wasn't the best way to work. "
"I was lucky and got a break with a Blue Chip Pharmaceutical giant, my passion and belief that got me through the door buy I see many start-ups struggle, potential clients wouldn't don't take them seriously because they don't have the business infrastructure".
"From the very first interaction, businesses, big or small, need to present professionally – they need access to high-quality but affordable back office services, facilities and support.
That is where Oberoi Business Hub comes in."
The hub is based right at the centre of Derby's Business community on Pride Park.
Kavita added. "We offer serviced offices and back-office support for clients ranging from sole traders to multi-national businesses/charities.
"Services include professional conference suites, premium serviced offices, flexible, customised 24-7 call answering, outbound calling, hub membership, a Pride Park virtual office address, virtual PA services and venue finding.
"All the professional administrative back-up you need to allow you to concentrate on running your business especially in the growth phases of small or growing business.
For some businesses, simply being able to put their company address as Pride Park is a start such is its prestige.
"We offer serviced addresses and include mail-forwarding, secure storage and a registered office address for Companies House."
Meanwhile, a key focus are the serviced offices and Kavita's team of support staff.
"We have small office units that will take one-man bands, right through to larger units for 12-strong teams. We also have a suite of meeting rooms and conference-style rooms which businesses can hire if they need more space."
Clients can quickly upgrade or reduce their space as their needs change, with one-month contracts to make sure they're not weighed down by expensive rents. Space is available if they need to grow.All serviced offices come with car parking spaces, 40Mbps broadband and access to the Hub's informal workspace area. Offices can be left unfurnished or furnished.
Incoming calls are handled by Kavita's team in the client company's name.
Kavita said: "I was approached by the owner of a call-handling business who was looking to retire and she did a 'secret shopper' exercise on us to gauge how well we handled clients' calls. She was determined to look out for her customers and wanted to make sure whoever took over the business would treat them well.
"She was blown away with how professionally we handled calls and we took over her clients when she stepped down."
There are more than 300 companies on Kavita's books and one of the most popular services the hub offers is a 'virtual PA'.
She said: "We have a comprehensive list of administrative and professional skills on offer, from diary-management and minute-taking through to venue finding and document production. For instance, if you wanted a Powerpoint presentation put together, we can handle that on your behalf, leaving you to focus on your core duties. We also offer market research and database creation."
A key factor behind the Business Hub's success is the sense of community it creates among its clients.
"I am really proud of the way they work with each other, supporting their fellow Hub members to grow," said Kavita.
Certainly, IoD regional director Ron Lynch was hugely impressed by the facilities and services of offer when he paid a visit to the Business Hub.
"It's a highly professional offices spanning 10,000 square ft and the business lounge is a perfect fit for IoD members, with plenty of space to work and for informal meetings.
"That's why I'm delighted Kavita has said our members can use it free of charge; I hope many members based in Derby and those who go to the city for business, drop in and take advantage of this superb new benefit."
Members will get the chance to see the facilities for themselves in December when the Oberoi Business Hub hosts its first Derby Members Evening on December 3
"My team and I are looking forward to meeting members in December," said Kavita. "It's a great opportunity for me to explain more about the services we offer."