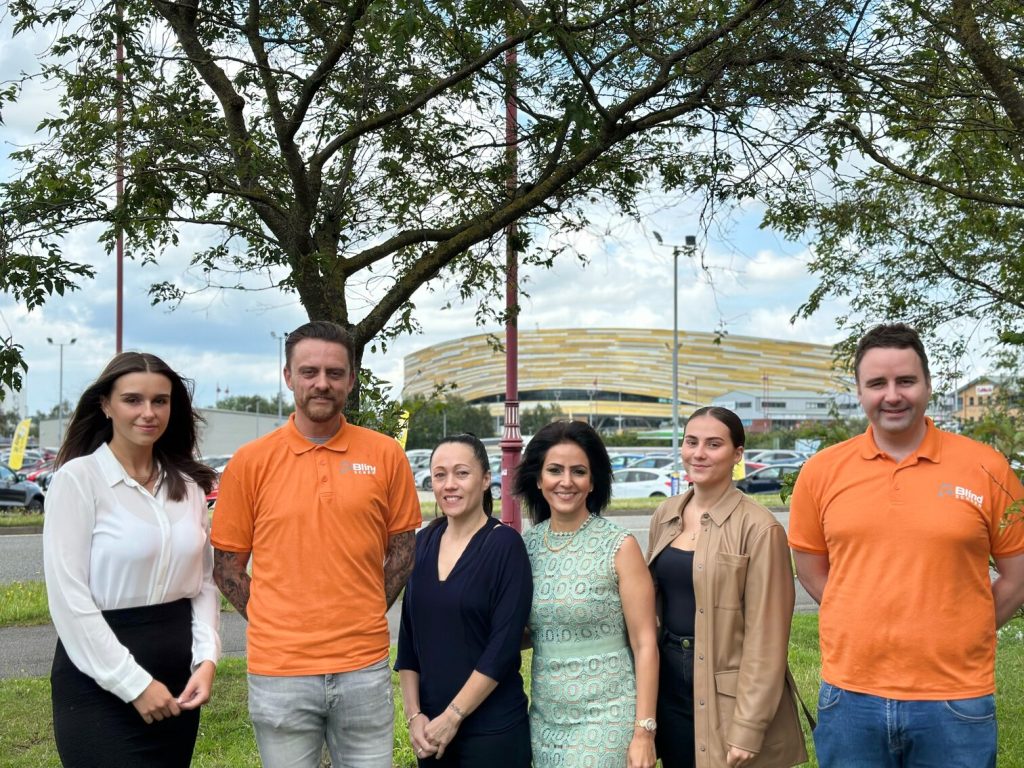 A Derby company which has developed an innovative new range of blinds that are set to take the worldwide industry by storm has moved its head office to Oberoi Business Hub in Pride Park.
Blind Screen is the brainchild of entrepreneurs Lenny Reynolds, who has operated in the blinds industry for more than 20 years, and marketing and lead generation expert Paul Cheetham MCIM.
The contemporary multi-function blinds system combines ultra strength net and honeycomb fabrics with several unique features including 100% black out and thermal insulation technology with sideways opening fly, pollen and haze screens.
This not only increases the energy efficiency in any type of residential or commercial building but also protects against environmental pollutants and extreme outdoor temperatures.
Now based in Pride Park, Blind Screen plan to grow their sales and product development teams and will also hold training for national retail and installation partners.
The company, supported by Ascend funding from Derby City Council and Vision Derbyshire from Derbyshire County Council, has recently appointed a major UK-based manufacturer and already has nearly 250 distributors based across the UK ahead of the official nationwide launch early next year.
Lenny Reynolds explained: "Blind Screen is a totally new category in the highly competitive industry which has been lacking any innovation since the launch and then mass production of shutters more than 20 years ago.
"We have developed the world's first 100% black out sideways motion blind screen with new thermal efficient fabric that is currently being independently tested and officially verified by the University of Derby.
"Having carried out soft launches at a major international trade show and at consumer exhibitions such as Grand Designs Live, we have already had an incredible response and some of the leading trade figures have described Blind Screen as a game changer.
"We started manufacturing Blind Screen ourselves but could not keep up with demand so transferred to China and now have one of the longest-established and high regarded UK manufacturers about to start production.
"We are committed to facilitating the growth of fellow small businesses who will sell and install Blind Screen in their local areas through unrivalled product design, training, lead generation and customer support.
"Blind Screen's success has meant that I have had to focus on this and close my previous company which was one of the largest independent blinds companies locally.  I am however looking forward to introducing this new range to this area where we have had so many loyal customers over the years."
Paul Cheetham continued: "The UK's leading blinds installation franchise company has already come on board alongside a growing number of SME operators and, having secured design rights in 31 countries, we are already in discussion with distributors across the world from the USA to the Middle East.
"Our introductory marketing videos have had ten million views on Tik Tok and enquiries into us are coming in thick and fast which we are passing onto our distributors across the UK.
"We therefore needed a head office not only for our growing team but also with the facilities to hold training sessions for around 50 different businesses every week.
"Oberoi Business Hub was therefore the perfect solution.  It has given us the facilities we need now and the capacity for future growth.
"The location in Pride Park with excellent road, rail and air transport links make us easily accessible for our network and gives us the business address that adds kudos to the quality of our brand."
Kavita Oberoi OBE is the founder and managing director of Oberoi Business Hub in Pride Park.
She said: "Blind Screen is yet another example of why Derby is the capital of innovation and we are delighted that they have chosen Oberoi Business Hub to base their head office and pave the way for future growth.
"This is an exciting new range of products which are not only look fantastic in homes and commercial premises but will be a game changer to keeping warmth in and, with increasing global warming, protecting buildings and their inhabitants from air pollutants and extreme temperatures."
Business Hub manager Jodie Brady concluded: "We look forward to working with Blind Screen to support them as they take the world by storm and achieve the success that their innovative product development and entrepreneurial spirit richly deserves."
https://www.blindscreen.co.uk/