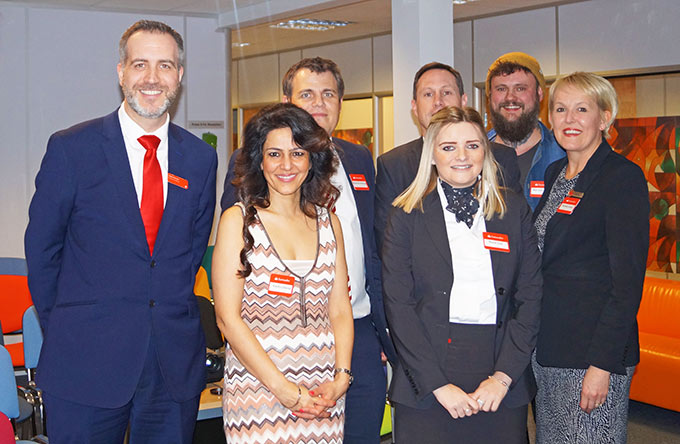 With a growing reputation for delivering business networking opportunities that help SME's to grow, the Oberoi Business Hub, located on Pride Park, Derby, recently played host to an inspirational Santander 'Breakthrough' event.
'Breakthrough in the Hub', one of Santander's national series of business growth events, offered businesses from around the East Midlands the chance to network and hear from local business
leaders on how to successfully grow, increase sales and build better profit margins through the use of evolving technology.
The event featured a high profile line-up of speakers, including Dean Jackson, founder of HUUB Design, Ben Edmonds, owner of Blok Knives, and Kavita Oberoi, a well-known healthcare entrepreneur, business mentor and founder of the Oberoi Business Hub.
Each of the speakers shared incredible stories of how they they've effectively embraced and adopted new technology to provide an edge over competitors and drive business growth in their respective markets.
The talks included enlightening insight into how always concentrating on making small changes to improve products and services through the use of technology, brings about marginal gain and constant growth in revenues and profitability, regardless of where a business sits in its development or even its size.
Well received by the large audience who had gathered to learn how fellow businesses continue to move forward, the speakers then fielded many questions to provide lots personal advice to attendees.
The event then moved into a relaxed networking phase, one of its main intended attractions, where likeminded business owners were able to meet and discuss mutual business opportunities.
Commenting on the event, Paul Richardson Relationship Director Santander said:
"It's important we support local businesses in achieving their ambitions and help them to prosper. This event provided business owner with new knowledge to facilitate growth, and the opportunity to build a stronger and a more active network of connections. It was great to be able to collaborate with the Oberoi Business Hub on this project and to hear directly from some really successful Derby business leaders."
One of the attendees at the event, Carl Bridge from Birchwood Residences Ltd, added:
"I was attracted to the event because we have a couple of start-up businesses in our group and knew we would benefit greatly from many aspects of the evening. It was a good opportunity to listen to interesting and engaging speakers from fast-growing local businesses HUUB, Blok Knives and the Oberoi Business Hub, and importantly take up a unique networking opportunity with like-minded individuals."
Kavita Oberoi OBE from the Oberoi Business Hub said:
"It was great to be able to work with Santander on this event, and we tried hard to ensure the guest list included businesses who could realistically work together in the future. Some fantastic local businesses came along, and I'm already hearing feedback that many have now connected with one another. I thank our speakers and hope we all provided key business lessons that guests can apply to their own businesses.
"Delivering business inspiration and providing the right networking environment for businesses to meet and then actually work together has always been my vision for the Oberoi Business Hub, and it's great to see that all coming together with this event displaying true entrepreneurial spirit at its finest."