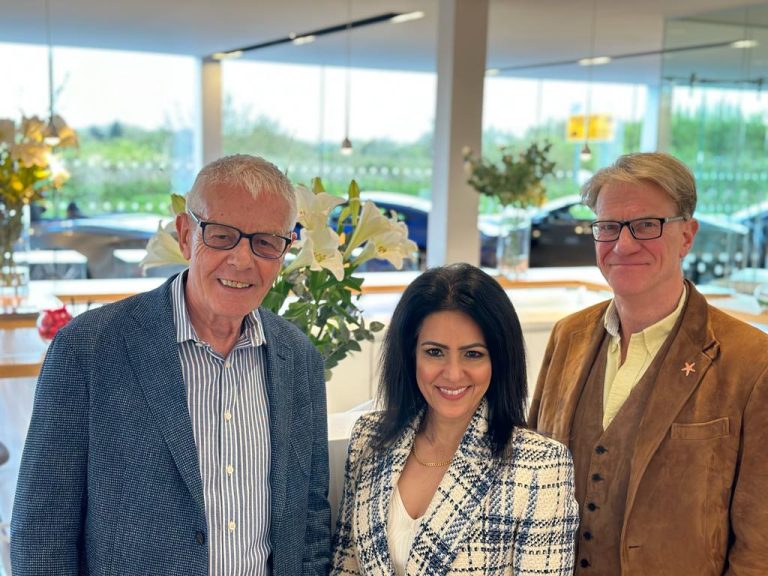 Leading East Midlands charity, Star Trust, has welcomed several new business leaders and entrepreneurs as patrons and trustees.
Star Trust is run by local business owners and entrepreneurs. Since its launch more than ten years ago it has donated more than £777,000 and awarded grants to 100 East Midlands-based charities.
Kavita Oberoi OBE and Tony Hillary have joined as patrons of the charity.
Mrs Oberoi is the founder and managing director of two Derby businesses – Oberoi Consulting, one of the UK's leading suppliers of IT and clinical support services to the NHS and pharmaceutical industry, and Oberoi Business Hub in Pride Park which provides serviced office accommodation and back-office support services.
Tony Hillary, the founder of Hillary's Blinds which, since its launch from his converted garage at home in Nottingham in 1971, has grown to become one of the UK's leading window dressing specialists. Tony sold the business in 2001 and has become a successful investor in various sectors under Hillary's Investments.
Both will be working alongside established patron Tim Storer – joint managing director of his family business, Pukka Pies Ltd – to champion the charity, help decide where money should be donated and participate in fundraising activities.
Two new volunteer board members have also joined Star Trust – Lincolnshire-based and award-winning entrepreneur Sarah Louise Fairburn and David Ryley, head of David Ryley Wealth in Nottinghamshire.
Star Trust founder Steve Hampson said: "We are delighted to welcome our new patrons and board members who join a loyal and committed team of volunteers with the sole focus of supporting local charities.
"We organise up to three high profile events a year – the most recent of which was a motoring day which raised more than £45,000.
"All the money raised is then granted to small charities across the East Midlands region who apply for funding and both our patrons and board members have an important role in ensuring that the money is allocated for maximum benefit to local communities."
Kavita Oberoi added: "I am honoured to be working alongside such like-minded entrepreneurs from across the region who share my ethos to improve the lives of vulnerable people in our local communities.
"Our Derby Breakfast Club continues to be a huge success – ensuring children start the day with a healthy meal and Oberoi Consulting now has its own foundation to support charities and organisations across the world with a focus on women and girls.
"I regard this role as patron of Star Trust working well in tandem with this existing work and I look forward to playing an active role in this very successful charity."