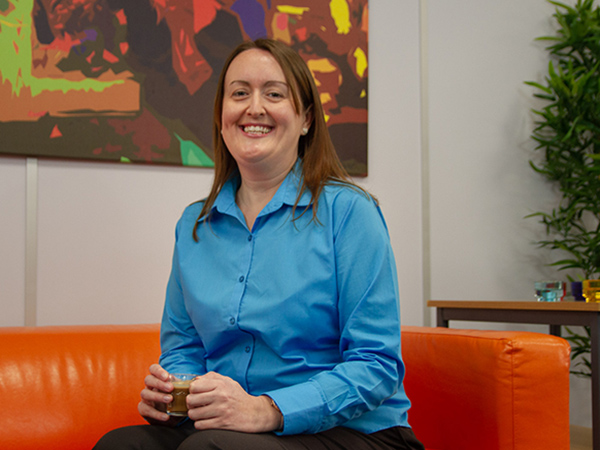 The Oberoi Business Hub team have developed niche expertise in providing call handling services for law firms.
Training, experience and their passion for great customer service is key to the consistent high quality service.
Here, team member Laura Cotton talks about her role: handling incoming calls for several law firms  to improve efficiency and customer service standards for both them and their clients.
What's your career background?
I have worked since I was 18 and have had various roles in travel and banking. All of my job roles have involved giving outstanding customer service which I pride myself on and my previous experience holds me in good stead for my current law firm clients.
How long have you worked with Oberoi Business Hub?
I started working for Oberoi Business Hub in August 2020 after being made redundant from my previous company who needed to make cutbacks due to the pandemic.
I was drawn to the job because every day is different and it was clear from day one that the whole team was committed to providing excellent customer service.
How do you prepare when a new client comes on board?
When a new client comes on board with us, our Account Manager liaises with the client to determine how they want us to answer and manage their calls.  
Whether that be emailing or texting the message direct to the client or live transferring the call to the appropriate staff member. Our Account Manager also sets up our IT systems for seamless service delivery.  
Time is allocated to train each team member who is responsible for handling the client's calls.
What information do you need to do your job?
We are effectively an extension to the client's team so we accrue an in-depth understanding of each and every law firm client, including their structure, senior partners, number of fee earners and the areas of law that they specialise in.
Having done this research, the most important information is how the client wants their calls to be handled.
This determines whether we transfer the calls to individuals, go through to fee earners directly or their secretaries first or whether they prefer to be emailed with the caller's contact details and details of their enquiry.
We ensure our systems are always up to date with individual's names, roles, working days and times as well as updates about holidays or when they are unavailable for any reason which is important to provide an efficient service.
How do you handle calls?
We provide a tailored service to each law firm so the process depends on each client's preferred practice.
Regardless of the preferred process, it is obviously vital that we create a good first impression and a professional service from the outset. My approach is always to be as informative and helpful as possible and to create a positive experience for the caller.
Having greeted the caller, I determine who they need to speak with and the reason for their call – making notes to pass on to the relevant staff member. If the initial contact is unavailable, I refer to the client  instructions and try a second or third staff member at the firm.
Alternatively, I email the details through, advising the caller that I have done this and to expect a call back. The benefit of this is that our clients can be prepared with the relevant files to hand before calling back.
If it is a cold sales call to, say the marketing department, we often have specific instructions to take more detailed information so they can decide whether they want to return the call – saving them time by filtering the unwanted calls.
What reports/logging information do you provide to your law firm clients?
At the end of every day, we provide a detailed call log which is an overview of call details, the nature of the enquiry, caller contact details, who from our team answered the call and the  time of the call.
By scrutinising the nature of the calls that are coming through on a daily basis, our clients can gain a comprehensive overview of their business which they would not necessarily achieve otherwise.
For instance, it can highlight bottlenecks in the business ie: whether certain departments are receiving a larger than average number of calls chasing outstanding information.
What do you most enjoy about your job?
I love speaking to people and helping them with whatever they need. I am particularly interested in calls about conveyancing as I am in the process of buying my first home and I have learnt so much from people's calls about their own issues.
For more information about call handling services provided by Oberoi Business Hub, visit   https://www.oberoibusinesshub.co.uk/hub-services/call-answering/