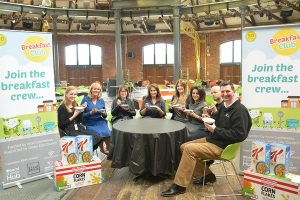 On Tuesday 3rd October Kavita Oberoi OBE hosted a Marketing Derby Bondholder Breakfast at the Roundhouse to launch the new phase of the Breakfast Club project.
The scheme, to offer funded breakfast's through local business to children across Derby city schools, is a collaborative project between Derby City Council, leading City entrepreneur Kavita Oberoi OBE, Aaron Thalmann, Mike and Dana Copestake, Derby County Football Community Trust and HIS Church.
Derby College have named the Breakfast Club as their charity of the year and are setting 4000 students the task of raising £15 each. April Hayhurst, Derby College Deputy Principal – Employer and Economic Affairs, said: "Our ambition is to raise £50,000 over the coming years and support our students with their enterprise and entrepreneurial skills to devise a wide range of fund raising initiatives.
"We are a great city and work well in collaboration so I hope that businesses in Derby will support our students wherever they can to achieve their targets."
The Bondholder Breakfast was the perfect platform to gather leaders of the city's businesses to talk them through the story so far and how they could get involved.
Kavita said: "This morning has been fantastic. We've had a number of businesses that have been inspired to get involved. We've had pledges of support and donations. It only costs £15 to feed one child for a year."
As well as the presentation there was an auction held for a signed Derby County shirt, which was won with a bid of £200 from Jackie Clarke, of the Burn the Book Digital Agency. Jackie said "Coming here today and seeing this initiative was actually really inspiring because I know the difficulties that parents face when they're trying to get their kids off to school and trying to get themselves to work".
Unite have kindly donated £3000 to support the roll out and Tony Tilley said: "When we heard about this project we were very concerned about some of the difficulties that children were suffering and wanted to make sure that Unite was playing it's part in supporting the city".
As well as inspiring businesses to support the project the aim is to get more schools across the city sign up and set up their own Breakfast Club.
Appealing directly to schools, Councillor Sarah Russell, Cabinet Member for Education and Skills said: "I would say please do get involved in this project. If you speak to some of your colleagues who were involved in the Breakfast Club before this point, they would tell you how it has improved educational attainment for their young people, it has made them ready to learn, it's meant that they were there on time, in the classroom, happy, engaged and ready".
You can get involved by visiting the "School Breakfast Club" JustGiving page by clicking here.