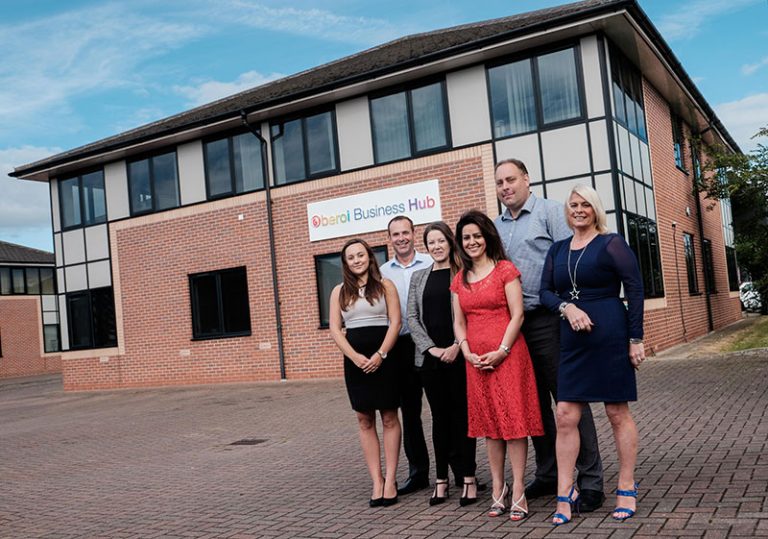 Following the recent acquisition of an additional 6000 sq feet of office space, Pride Park's Oberoi Business Hub in Derby has been able to increase the availability of its high specification serviced offices.
The expansion has not only attracted new clients but allowed existing clients to support their ambitious growth plans.
The Oberoi Business hub has a range of service provision currently supporting more than 200 businesses with back office support for businesses ranging from start-ups to large corporations.
Businesses that have outsourced the invaluable back office support through the Oberoi Business Hub have realised significant costs savings compared to the alternative of employing their own staff.
New serviced office clients include specialist engineering consultants, DGauge and crowd-funding travel specialists, The Resort Crowd. Both selected the Hub because of its prime location on Pride Park as well as the mind set and ethos of the team behind it.
Risk management firm, RiskTec first opened their satellite base at the Pride Park Business Hub in 2013 with a small serviced office of only two people.
They are now poised to expand for the third time in three years as their business booms capitalising on the recently acquired space.
Founder Kavita Oberoi OBE established Oberoi Business Hub in 2012 as a way to support start-ups and SME businesses with a range of extended back office services such as a virtual office address, fulfilment, call answering services, conference room hire, virtual PAs, mentoring as well as serviced offices.
As one of the UK's most successful entrepreneurs, Kavita knows all too well the needs of  both start-ups and growing businesses, saying:  "I started my first business 15 years ago from a desk in my bedroom, having a strong brand, presence and back office support is absolutely mission critical  for the growth of any successful business."
Phil Williams, Principal Consultant at RiskTec who has increased staff numbers at its Business Hub base from two people to 12 people in three years said: "Setting up our business from the Oberoi Business Hub has proven to be one of the best decisions we made in the early days of starting out. The facilities, such as conference rooms, access to IT infrastructure, and being able to have a custom built office at the second recently acquired Oberoi Business Hub, means there has been nothing stopping us from growing and expanding our work force.
"Had we tied ourselves into a five year lease on a standard office rental elsewhere, we'd still be stuck there now with just two members of staff – being able to have the flexibility to move and add more space (and even a server room in our case) has been crucial to our success."
DGauge's Project Engineer, Steve Cartledge, who is due to move with his team to the Business Hub in September added: "As a national service provider, location was absolutely intrinsic to the final decision about where our office should be – we already work with companies based in Pride Park, and being so close to the train station provides us with the connectivity we need as a business.
"We're all looking forward to moving operations to Oberoi Business Hub and utilising the variety of services on offer to support our aim of expanding the team to meet growing customer demand."
Kim Collier, Operations Manager at The Resort Crowd reiterated the benefits of the location and facility, saying: "For us, The Business Hub portrays much more professionalism than some of the shared work spaces we looked at and we're confident that we're working alongside like-minded progressive businesses. The extra services on offer add real value and have made choosing the Hub an easy decision."
Kavita Oberoi OBE added "The Oberoi Business Hub is more than just being about space, my vision is one of creating a network of businesses that work together and support one another – true entrepreneurial spirit at its finest.  Our clients' success is our success."
For more information about the Business Hub and the variety of services on offer, please visit www.OberoiBusinessHub.co.uk