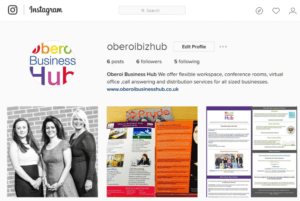 We recently set up an Instagram page after hearing about how it can benefit your business.
Instagram has more than 300 million active users and has caught the eye of lots of growing brands ranging from large to small.
Below are the top 5 benefits to our business since setting up our Instagram.
1. Connecting with potential clients
Although Facebook or Twitter may be your first thoughts when thinking about engaging with clients a report from Forrester Research found that Instagram generates 120 times more engagement per follower than Twitter.
Making Instagram perfect for listening to feedback, building relationships and sharing new products and services.
2. Drive traffic to your website
One of the most important part of marketing on any social media channel is driving traffic into your website and you can do this through Instagram.
Firstly, make sure your website link is in your bio as this is the only place you can put an active hyperlink.
Also mentioning your website or using calls to action in post captions are a great way to drive potential clients to your site.
3. Education on your consumers
There's a strong chance that your customers are already posting photos related to your business or talking about you on Instagram.
People love to share photos of things they've eaten or places they have visited and their captions and comments can be very valuable for feedback.
The best way to find out if people have put posts on about your services or products is to post a picture of your business and tag its location.
Once the post is live, you will be able to see a link that will allow you to see all the other photos that were taken at your location.
4. Networking
Like any other social media channel, Instagram is a great place to network with potential or existing clients which can extend your online reach.
This can be done by following and engaging with individuals related to your industry by liking and commenting on their posts.
The more you do this the more inclined they will be to engage with yours. Instagram allows you to search hashtags which will lead you to related industries accounts where you can then follow them and engage with their content.
3. Gain trust
Instagram makes it quick and easy to make updates and show "behind the scenes" of your business and services first hand.
It is as easy as taking the photo or video, adjusting filters and using hashtags. It has the added benefits of being able to have direct conversations, tag people or create locations.
It makes you reachable to your audience and adds a personal touch.
This builds trust which is a huge benefit to have because people are more likely to use your services as they familiarise themselves with your business and can easily ask questions without hesitating.
Follow us on Instagram @Obeoribizhub
You can read more on this subject by, Katie Aquilina, Director at The Social Seed, by following this link : savvysme.com.au : How to Use Instagram Stories to Promote Your Business